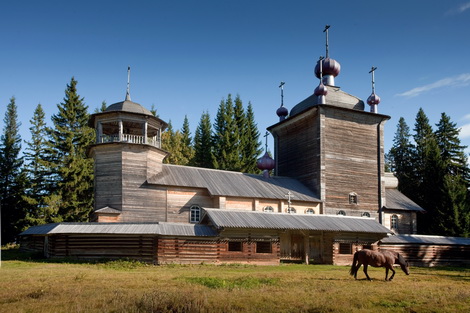 The spread of Christianity to the region at the end of the first millennium AD was a challenge for both the Karelian culture in a wider sense, and religion in particular. The earliest reliable information about the arrival of Christianity comes from the grave findings, including among other things Byzantine coins and crosses dating back to the end of the first and the beginning of the second millennium. These objects must have reached Karelia through direct trade contacts or via Novgorod, which converted to Christianity between the 10th and the 11th century.
The first written account of the spread Christianity originates from central Karelia and dates back to the beginning of the 13th century.
According to St. Lawrence's text, the extended version of the oldest Russian chronicle, the so-called Nestorian Chronicle, Novgorod attacked the inhabitants in 1227. At this crusade Yaroslav, the Prince of Novgorod, sent his people to Christianise the majority
of the Karelians, nearly all the people. Augustin claims that the mass Christianisation in 1227 was apparently followed by the building of churches and monasteries.
78 functional churches, cathedrals and monasteries are situated in Karelia, the most popular are the Cathedral of St. Aleksandr Nevsky in Petrozavodsk, Ilyinsky pogost, Kizhsky pogost (Kizhi), Vazhiozersky Monastery, Valaam and Solovetsky Monasteries.
One of the oldest monasteries is Iono-Yashezesky Male Monastery which celedratidits it's 450-th anniversary in October of 2012.